Stress. Everyone has it, everyone hates it and I'm all too familiar with it. In a weird way...I kind of like it. I feed off of it. However when someone recently told me stress affects my face, as well as my lifespan, I knew it was time to control this shit...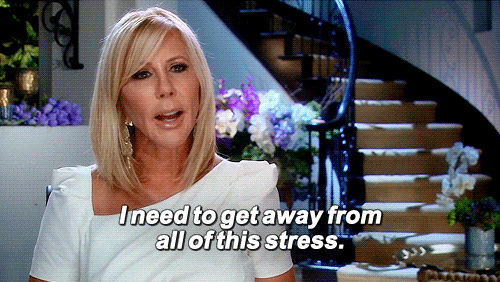 Stress causes a huge number of heath problems (heart disease, asthma, migraines, arthritis and IBS...to name but a few) however when it comes to our appearance, stress can cause acne, dark circles, dry skin, redness, graying and thinning hair and premature ageing. Sadly, combating stress is challenging. Of course meditation, pampering sessions and prescription drugs are on hand to help, however I recently discovered a more alternative treatment that is side-effect-free and even more powerful. It is Hayo'u...
Hayo'u is a new wellness programme that is uniquely devised to tackle your toxic stress levels, to make you look younger, feel stronger and become more energised. Distilled from the 7,000 year old wisdom of Classical Chinese Medicine, the Hayo'u programme works alongside Western Medicine, creating self-care rituals designed to make fighting the effects of stress an effortless, enjoyable part of an at-home health and well-being regime.
The British brand was created by Katie Bridle who, in 1992, had a car accident that gave her whiplash and abruptly ended her dreams of becoming an opera singer. The pain was physical and emotional and totally changed the course of her life. A year later she was still in constant pain, and couldn't work out what to do as nothing was sorting out the problem. Desperate to find a solution, Katie found herself drawn into the world of alternative therapies and eventually an unfamiliar combination of Tui Na massage, acupuncture and Qi Gong nailed the issue once and for all. She was amazed by how, with the right kind of help and correct information, her body was able to heal itself. She wanted everyone to have access to these same benefits and this strong desire lead her to become a practitioner and spend years perfecting Hayo'u.
A couple of months ago I met with Katie to find out more about Hayo'u, talk through my stress issues and discuss the best ways to combat them. Katie gave interesting advice on why my stress can get a little out of control and how my current methods of dealing with it is only escalating the problem. She explained Hayo'u's 3-step programme (bathing, breathing & self-treating) in detail and demonstrated some 1 Minute Rituals that I should do daily to keep me relaxed and feeling stronger. These 1 Minute Rituals involve breathing, shaking, tapping and drumming the stress – quite literally – out of your system. I have been doing them each morning for the past month and have seen a great improvement in my wellbeing and general state of mind. Here is just one of the 1 Minute Rituals...
Luckily there are more video tutorials on these 1 Minute Rituals, as well as a library of stress-busting resources, available for free at
www.hayou.com
. What's even more exciting is that Hayo'u will soon be launching a range bathing products, therapeutic oils and de-stress face and body tools designed to supplement the self-health benefits of Hayo'u. I can't wait to get hooked up and healthier...