False. I've always been guilty of washing my hair with very hot water. Unlike some, this isn't because I think it'll provide a more intensive wash, but simply because I love hot showers and only wash my hair when I'm in one.
Washing hair with hot water may not seem that damaging to the hair or scalp, however, unfortunately, it is. Hot water can dry out your hair and scalp, making hair brittle and prone to breakage. Washing hair in hot water can also remove oil from your scalp, causing your scalp to produce extra sebum. This can then lead to damage at the roots and excess shedding.
Before you get worried, no one expects you to wash in a cold shower. However it's best to wash hair with warm water to ensure your hair and scalp remain healthy. For those of you who do take very hot showers, your hair and scalp may be in need of a little TLC, so I recommend using as many nourishing products you can get your hand's on.
I'm currently using the new Aussie
3 Minute Miracle Pure Locks
as a weekly treatment. This deep conditioning treatment is formulated with kakadu plum and lime pearls, which gently purify and nourish the tresses, leaving you with clean, deeply conditioned and shiny locks. This new 3 Minute Miracle is best suited to dull, dry and damaged hair, so it's perfect for those hot-shower-loving-hoes...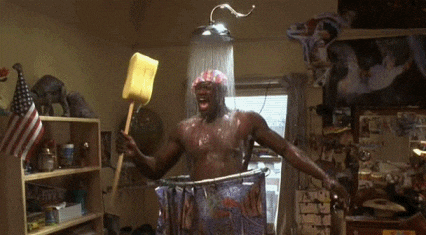 When it comes to regular washing, I've been reaching for the Kerluxe
AQUAVOL Shampoo and Conditioner
. Both products contain AQUARICH® - a uniquely protective moisturising booster derived from black oats, that helps improve the uniformity of shine and texture of hair - and
ACB Pisum Sativum Peptide - a vegetable protein consisting of 22 amino acids that help improve the overall health of scalp and hair, protecting both from damaging free radicals.
Another great nourishing product is the Moroccanoil
Treatment Light
. This styling, finishing and conditioning product is designed for those with particularly fine and light-coloured hair, thanks to its ultra-light formula. It absorbs instantly creating a natural, silky finish and brilliant shine without leaving a greasy residue behind. It has the ability to restore over-processed hair damaged by environmental factors and chemical procedures. It also revives, hydrates, and most importantly, detangles hair, wigs and hair extensions.
As for protecting the scalp itself, I recommend the OGX
Niacin 3 & Caffeine Root Tonic Spray
. This hair hero is designed to encourage a healthy scalp and help prevent hair fallout caused by breakage. It absorbs easily, doesn't feel greasy or sticky in the hair and helps give the appearance of thicker, fuller hair.