False. I've always been guilty of washing my hair with very hot water. Unlike some, this isn't because I think it'll provide a more intensive wash, but simply because I love hot showers and only wash my hair when I'm in one.
Washing hair with hot water may not seem that damaging to the hair or scalp, however, unfortunately, it is. Hot water can dry out your hair and scalp, making hair brittle and prone to breakage. Washing hair in hot water can also remove oil from your scalp, causing your scalp to produce extra sebum. This can then lead to damage at the roots and excess shedding.
Before you get worried, no one expects you to wash in a cold shower. However it's best to wash hair with warm water to ensure your hair and scalp remain healthy. For those of you who do take very hot showers, your hair and scalp may be in need of a little TLC, so I recommend using as many nourishing products you can get your hand's on.
I'm currently using the new Kérastase Aura Botanica collection, a unique hair range formulated with natural, responsibly sourced ingredients. Two of those key ingredients include coconut oil and Moroccan Argan oil that deliver nutrition, suppleness and strength to the strands. The Aura Botanica range is best suited to dull, dry and frizzy hair, so it's perfect for those hot-shower-loving-hoes...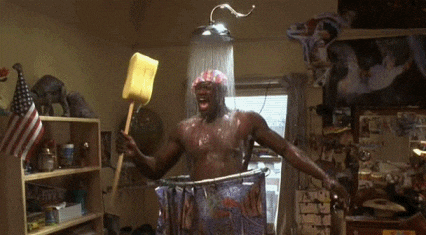 My favourite product in the Aura Botanica range is the
Concentre Essentiel
, a multi purpose hair booster that is packed with avocado, jojoba, coconut, Moroccan argan oil and sweet orange oil with rosemary extract. It is designed to soften your tresses and enhance shine via a number of different methods. You can either apply it to your scalp or use it as a pre-shampoo treatment or massage oil. I take a different approach, adding a few drops to my conditioners and masks when my hair is in need of some serious nourishment.
Another great nourishing product is the
Rahua Conditioner
. This rich and ultra-hydrating hair hero delivers lustrous, healthy locks thanks to the omega-9 rich rahua oil, aloe, palo santo oil and quinoa included in its formulation. The Rahua Conditioner has a gorgeous rich consistency that applies evenly and rinses without leaving anything greasy residue behind. It smells absolutely gorgeous and delivers shiny, soft strands.